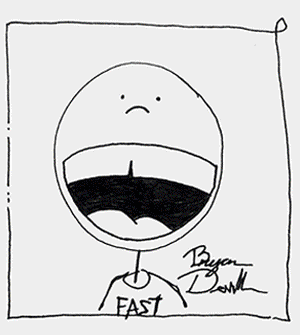 I truly enjoy making things. 

My creative work has been mentioned in the New York Times, the New Yorker, CNN, Complex, Buzzfeed, Vice, Time, and myspace.com

In 14 years of creative hustle I have negotiated the sale of a failed reality TV show, rolled around with Ice Cube and received numerous accolades from award shows. I also made a website called Compfight.

I can run a camera, direct a social video, make a gif, make a deck look $$$, cut a look and feel, tweak a CSS file, keeeeern, slug a mech, throw together a director's pack, whatever work needs getting done I'm ready to give it a go.

With a weird obsession for finance, tech and reddit, I bring a truly unique POV to any project. My knowledge of the internet is better than most.

I hustle until the work is done.

Art director. ACD. CD. Whatever you need me to be.

EXPERIENCE:
1 year at Goodby
8 years at CP+B

FREELANCE:
MRY / 360i / V&S / CPB UK - NYC- CO / BBDO MN - NYC /
SRG / MH-VCCP / FORSMAN/ VAYNERMEDIA / ? 
Bryan Denman - Freelance Art Director / ACD / CD
SF Based. Have Friends. Have Awards. Will Travel.

Mobile: 720-839-0983
Email: Denman@BFDWorks.com