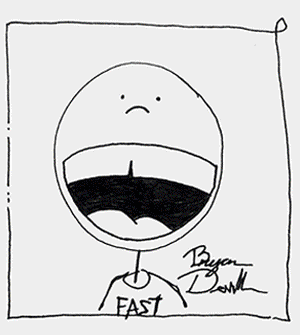 I enjoy making things.

My creative work has been mentioned in the New York times,
the New Yorker, CNN, Complex, Buzzfeed, Vice, Time, and highlighted in my parent's
social profiles.

In 12 years of creative hustle I have negotiated the sale of a failed reality show, rolled around

with Ice Cube and received numerous kudos from award shows that people only vaguely care about. I also made Compfight.
I can run a camera, direct a social video, make a gif, make a deck. Make a million decks.

Make decks that look gorgeous, cut a look and feel, tweak a CSS file, kern-kern-kern, slug a mech, throw together a director's pack, whatever work needs getting done I want to give it a fucking go.
EXPERIENCE:
1 year at Goodby
8 years at CP+B

FREELANCE:
MRY / 360i / V&S / CPB UK - NYC- CO / BBDO MN - NYC / SRG /
MH-VCCP / FORSMAN/ VAYNERMEDIA / ? 
Bryan Denman - Freelance Art Director / ACD / CD
SF Based. Will Travel. Have Friends. Have Awards.

Mobile: 720-839-0983
Email: Rocketgofaster@gmail.com